There are some very interesting numbers coming in from Canalys that shows us some info about the sales of touch screen smart phones. This reports shows that over 50% of the smartphones sold around the world have touchscreen features. It is no real surprise that Apple iPhone 3GS unlocked remains the leader, even though they really only have two mobile units. But what is interesting is that Nokia is not that far behind them. This is most certainly putting some pressure on Apple to keep on top of their game. The other companies such as HTC and Samsung still have quite a ways to go to catch up. This should indicate that we will see more touchscreen updates and releases this year. We should also see Samsung increase its market share since they did much better in 2009. The big news is looking at Nokia N900 cell phone and their percentage of increase over their shipments of 2008. We can expect Nokia to make a major presence in the market in the coming months. Does this mean that they will over take Apple? It is hard to say, but 2010 should be a very interesting year for all of the companies.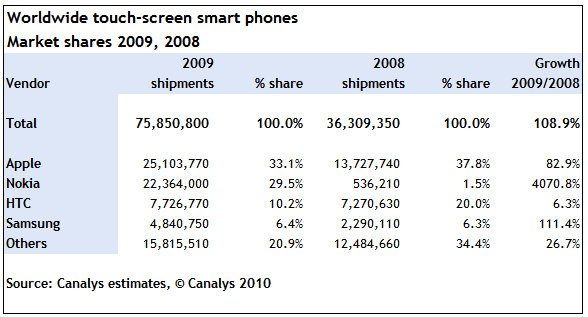 When we take a look at the OS systems for the smartphones, Symbian is still in the lead, but they did not experience much growth. Apple and Google could both be real contenders on overthrowing Symbian over the next few years. The amazing success of Google Android OS could see them overtaking Microsoft very soon. It must be discouraging for Microsoft to see their market share go done. Hopefully some of their new releases will be exciting enough for them to stay in the game.
It will be interesting to take a look at some of these numbers at the end of this year. We may see some upsets and some very surprising statistics. At the very least, the number of touchscreen phones should go well over 60% of the number of mobile devices sold. This will surely be a great year for the mobile phone industry.